My Left Foot is story of Christy Brown, brought to life on the screen by Daniel Day-Lewis.
Christy Brown was born with cerebral palsy to a Dublin couple who eventually had 22 children; Christy was one of the 13 who survived.
As with all amazing movies, it leaves you with haunting messages that return unbidden throughout the day. The boisterous family life depicted in the movie is said to have been accurate. There is a short clip in the special features section of Mrs. Brown, Christy's determined mother. Thinking about Christy Brown and how incredibly resourceful and utterly undefeatable he was in his quest for normalcy makes me search deep within myself for any shred of such traits.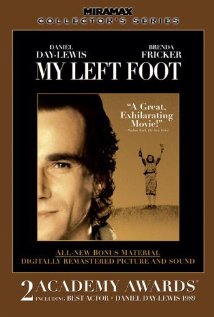 It is a huge gift to engage thoroughly with excellent story-telling, and this movie proved to be a Monday night surprise we won't soon forget. For further reading see the wikipedia entry here and the IMDB.com entry here.
The biggest surprise, though, is not only that Christy Brown wrote the book that led to the movie. He also did the illustrations. All with the only limb he could control - his left foot. It is no wonder Daniel Day-Lewis got an Oscar for his performance, which included typing with his toes.
But what brought tears to my eyes was another clip of Christy Brown himself, slipping a new page into his typewriter and typing away - no hands - just with his left foot.
Wow.
Did I complain when my computer was at the Apple Hospital? Shame on me!
Tags: good storytelling, Movie, My Left Foot