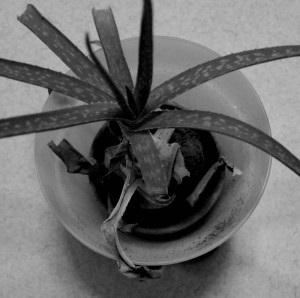 Love Me Again
By
F. Ulanoff
Once upon a time there was a plant that had enough light to keep himself alive.
With no other nourishment, not even water, through his whole existence, his soil became dry and crackly.
It wasn't that the plant was not loved, because he was. His owners would come by and from time to time, stroke his stems. He was sure they adored him.
Except for the times they would approach his pot with a shiny object in their hand, and after coming even closer than he'd expect, a pain pierced through his being and liquid dribbled out where a piece of himself used to be.
He did not know what their motive was for these attacks.
Months would go by and he would feel safe, then it would happen again, the shooting pain and the sap sliding down his side. After a while the plant knew his missing parts would never grow back, because each one of them had begun to grow crusty protections, and he was never the same.
Except for the tiny shoots growing from his center core, his body started to shrink and any bright outlook he had began to get smaller along with his size.
He would sometimes, when the sun shined through the sliding glass doors, where he sat on the kitchen table, imagining that he had all his limbs in tact and perhaps life would be as it was.
Weeks passed and the plant still had a lot of his body in tact but since he was not getting any extra nourishment, nor water, he would soon disappear.
He thought, If only they realized I was hurting. He wondered why they had not noticed his slow diminishing into nowhere.
Until one day he heard them talking in the next room early in the morning. They spoke of a great accident on one of their fingers, and if it wasn't for him their precious Aloe Vera she might have lost her entire appendage.
What does that mean? He tried to hear a little better by leaning to one side, but being careful not to fall over, because of his frail condition.
"We have to take better care of our plant in there, because by cutting little pieces of his being, we saved my finger and healed so many of our  other wounds. I'm glad we finally realized what we had," the woman said.
"He has been looking a little sad.  Why don't we go and buy some plant food, and maybe then he'll perk up. Or maybe we should water him," said the man.
"Oh no remember what they said at the plant store, when we bought him. Never water them because they are cactuses. And I know we wouldn't want to hurt him."
The plant felt better just knowing that he was special and no one was out to get him. He felt useful and loved.