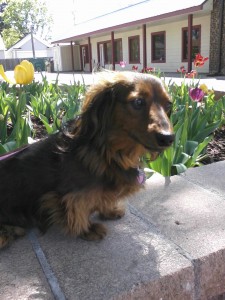 The Tale of Zoey Dog (Zoey's version of "The Tale of Peter Rabbit")
Once upon a time there were four little dogs, and their names were Pansy, Poppy, Mopsy and Zoey. They lived with their momma in a big dog bed in the den.
"Now, my dears," said Momma Dog one morning, "you may go into the fields or down the lane, but don't go into the garden. Now run along and be good puppies."
Pansy, Poppy and Mopsy were very good indeed and went down the lane to sniff for treats. But Zoey, who has a naughty streak, went to the garden, where she ate carrots and tomatoes until she felt rather bleak.
That is, until Ms. Humbledum, the garden's owner, yelled, "Stop, thief."
Zoey was dreadfully afraid and forgot her way back to the den. She lost a shoe and started to bawl until she collided with a net and ripped her hoodie, feeling very much the fool.
After what seemed to be hours and hours, Zoey found her paw print at the gate. She ran as fast as she could go, even though Ms. Humbledum caught sight of her.
Zoey didn't care and slipped underneath to escape.
"I'm safe," she yelped.
Zoey ran the rest of the way home, so very tired, that she flopped down in the den and shut her eyes.
Momma wondered what had happened to Zoey's one shoe and hoodie. Zoey, who was a wee bit sick, wouldn't say. Momma sent her straight to bed, while Pansy, Poppy and Mopsy got treats. Those three stayed up very late eating, playing and having fun.
That's what happens to naughty dogs. They don't get treats, or to have fun.
Zoey sighed, falling into a long, sleepy pout, feeling very sick indeed.