Thanksgiving is my FAVORITE holiday (next to Valentine's Day) ... it is easy to say why:
√  Weekend off!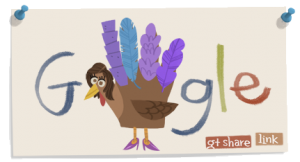 √  Gatherings with Family & Friends
√  Weekend off!
√  Good food, good wine, good times
√  Weekend off!
√  No presents required
    (that means - sooo thankful here - no shopping,
    no wrapping, no brain-racking for the most
    perfect thing)
√  Time ... to think, to adjust my attitude of gratitude ...
√  Time ... to list all of the people who populate my life with goodness ...
Every year I am always overwhelmed by the sheer volume of good and abundance in my life.
Yesterday I had fun with Google's Thanksgiving doodle. Mashable and PC World had write-ups about it - and give you more info on how to click n' play. I have to admit, it is fun to sit here clicking and customizing my very own turkey doodle.
PS: you can check out 2009's Snoopy Thanksgiving doodle, and 2010 Dinner-themed doodle complete with a link to recipes.