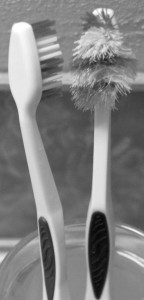 A Kiss Away
I love the medium strength toothbrush I have, it gets to the places that need it.
But my dentist said it is best for my teeth to use the soft one.
Now that I have it and am using it every day, the head is beginning to fall apart. And I know it is only a mater of time before its demise.
What to do?
Well experts, who are really dentists in disguise, say that you're supposed to change your brush every two weeks. Even if they don't show any wear. How are we supposed to remember? Are they time sensitive?
I'll miss my little red brush, with its bearded exterior and balding head.
Yes mine was the dark red one just as my mates is somewhat kind of blue, well at least in that family of colors.
In this way, and I'm sure you know what I'm talking about, there is no way for mistaken toothbrush borrowing.
But even if there was, after all they are sitting together day after day and they are really just a kiss away.